Characteristics
Super light weighted. Customizable in size.
High vibration transmissibility.
Damping removes remaining vibration and excessive noise.
Made with Samjung exclusive highly corrosion resistant steel (POS1006MA).
Rigid structure prevents deflection in rack condition.
Vibration Transmissibility


Vibration transmissibility of WowBoard Alpha is as excellent
as Solid pallet (Samjung WowBoard)
If produce the same concrete block,
the weight is heavier > Stronger blocks

In comparison to Wood and Plastic board,
WowBoard Alpha is greater in vibration transmissibility.
Numerous tests completed
by large scale block manufacturing machines
Major Characteristics
주요특징표
Self deflection
24 hours loaded with 600kg
Samjung Wow Board
(solid steel pallet)
14T X 1400 X 1300
Wow Board Alpha
(new steel pallet)
31H X 1400 X 1300
Welding strength test
Parent metal laser welding method > CO2 welding

Finishing and Leveling Inspection Results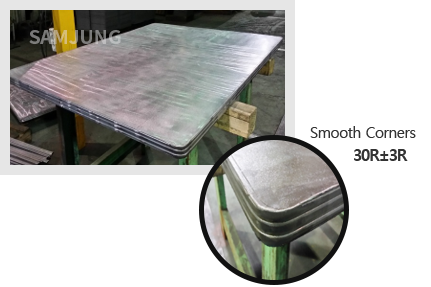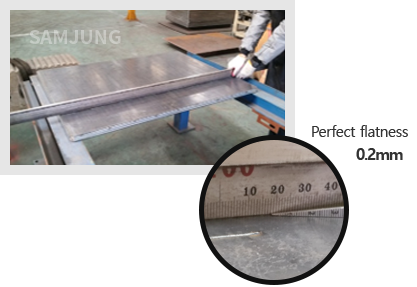 Deflection test results